Succeeding in the complex field of biomedical science takes determination, imagination, and a great deal of intelligence. But the challenge is well worth it to those with the skills necessary to improve and save lives. To better understand what precisely biomedical science is, let's take a closer look at what makes up this innovative field and what you can do with a postgraduate degree in this field from a top school specializing in this area.
What is biomedical science?
Biomedical scientists are the professionals responsible for creating solutions in healthcare. By analyzing and working with samples of blood, bacteria, and other types of organic matter, they adapt old practices and invent new ways to solve current medical problems. Biomedical science graduates usually possess a solid background in laboratory work, biological science, and data analysis, pursuing careers that range from biotechnology or neuroscience to environmental engineering or crime scene investigation.
The combination of techniques like DNA sequencing and immunofluorescence microscopy imaging and valuable skills like problem-solving and different research methods enable biomedical scientists to enjoy a vast pool of job opportunities, as companies in varied sectors always need qualified biomedical science graduates. While the more competitive roles might take a longer path to reach, there are many exciting alternatives to explore as you work your way to the top.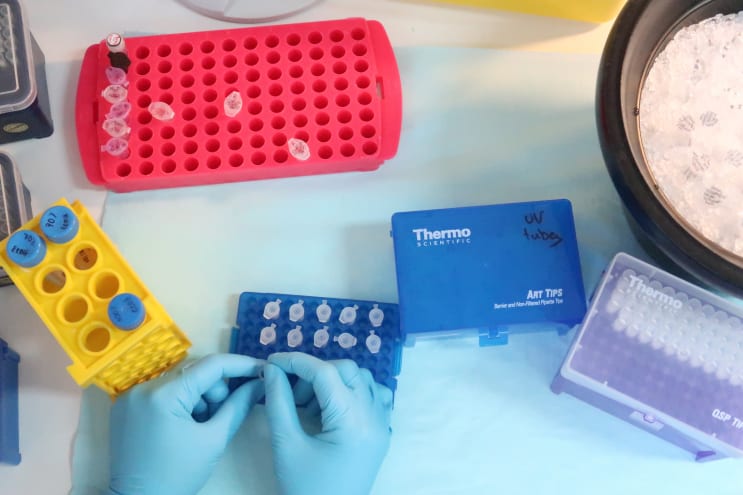 Biomedical science amid the COVID crisis
Biomedical science is the heart of modern medicine, even though these scientists don't have the same direct contact with patients as doctors do. Working behind the scenes in laboratories and research centers, biomedical scientists were the leading responsible figures in creating the COVID-19 vaccines that are now distributed around the globe.
Researchers used biomedical technologies, artificial intelligence, and synthetic biology to find the most effective formula and conduct the required clinical trials before the vaccine could reach the arms of the world's population. In this scenario, the demand for specialized epidemiologists increased overnight, but there are many other fields a biomedical science graduate can pursue.
Career paths with a biomedical sciences degree
A biomedical scientist can be anyone who works with biological specimens (blood, tissues, cells) and other cultures grown in a laboratory. These professionals need to work analytically, pay close attention to details, have strong research and problem-solving skills, and effectively collaborate and communicate with a team. Typically, they are employed in national health bodies, private hospitals, pharmaceutical companies, research centers, or universities.
Still, many other career paths open up for a graduate of biomedical science. You can end up holding a different title if you choose to work in health policy, toxicology, or zoology, for example. The foundational courses that make up a biomedical science curriculum (microbiology, biochemistry, genetics, and others) make you a qualified candidate for various specialties. Other potential careers are:
With a degree in biomedical science, a move into medicine remains a viable option.
Where to study biomedical science
As with most scientific subjects, choosing a renowned school for your degree can be the first advantage for your career. The Cyprus Institute of Neurology & Genetics (CING) offers world-class, English-language programmes in disciplines related to biomedical science, such as:
The two-year MSc in Biomedical Research has a strong focus on laboratory work and allows students to work closely with expert biomedical scientists in the Institute's cutting-edge departments and clinics. Through the program, students develop critical thinking skills and gain insight into the application of biomedical science in the real world while mastering different scientific methods, data analysis, and experiment design.
Study at a leading research center in Cyprus
Graduates with a background in medicine, biology, genetics, chemistry, and related fields are welcome to benefit from the unrivalled research infrastructure at The Cyprus Institute of Neurology and Genetics and learn from a faculty of expert scientists. All students are experienced in their fields and can maintain the quality of work alongside peers.

The fully accredited programmes are recognized internationally and further certified by the Sultanate of Oman, the People's Republic of China, the Hashemite Kingdom of Jordan, and the Kingdom of Bahrain. The Institute offers scholarships to international students pursuing master's degrees in Neuroscience, Molecular Medicine, Medical Genetics, and Biomedical Research.
The innovative programs, the research opportunities, and the institute's global reputation make The Cyprus Institute of Neurology and Genetics a top choice among students from different parts of the world.
Based in the capital of Cyprus, Nicosia, the CING was, due to its pioneering work, the appointed institution by the Cyprus government to conduct lead testing and diagnostic efforts during the height of the COVID-19 pandemic. The Institute's students are proud of the work done by the school and its faculty, many having worked at the Institute's Molecular Virology Department during the most challenging phase of the pandemic. Its renown has also seen it covered in the media…

The future generation of brilliant scientists can enjoy every benefit of studying at an institute that creates a real-life work environment and is at the heart of the most significant developments in biomedical sciences in Cyprus.
Beyond the CING's walls, Cyprus provides an enriching environment for students. The gorgeous beaches, mountains, and historic landscapes bathed by the warmth of the Mediterranean climate make it easy to unwind after a challenging day at the lab. The local cuisine, rich in flavour and variety, is celebrated and enjoyed in every part of the world. The affordable living costs make Cyprus a sensible choice for international students, who also benefit from English being widely spoken in the country.
If you are interested in pursuing a postgraduate degree at the Cyprus Institute of Neurology & Genetics (CING), visit the website for more information on how to apply!

Article written in association with the Cyprus Institute of Neurology & Genetics (CING).
Congratulations! You've decided to go to graduate school. It's no light decision to pursue additional education. Here's a good question: sho…
With 158 research centers, 15,000 researchers, three science and technology parks, and 11 start-up incubators, Lisbon is becoming an increas…
MASTERSTUDIES makes it easy for graduate students to find the right degree. Use our website to find information about degrees and career paths from around the world and speak directly with admissions officers at the schools and universities that interest you.